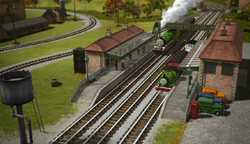 Wellsworth
(pop. 550) lies near the coast at the northern end of a peninsula close to Suddery. Nearby is a large hospital which serves the majority of Sodor's inhabitants and a nunnery.
About
The station at Wellsworth (often called "Edward's station") is on the North Western Railway's main line and acts as a junction for the Brendam branch line. The express does not stop at Wellsworth, although it was once accidentally sent down the branch. The station is at the foot of Gordon's Hill on the main line and, as a result, can be subject to runaway goods trains when the engine has not pinned down brakes. The station has a large goods yard and sheds, as well as sheds for Edward and BoCo, who operate the branch line.
The line from Brendam to Wellsworth is one of Sodor's oldest and was first known as the Wellsworth and Suddery Railway, which was later extended to Knapford in 1914 to connect with other railways to become the North Western Railway.
According to legend, St. Tibba had a well dug here, hence the name.
In Adventures on Rails, it acts as a junction to Edward's Branch Line. Edward is usually located around here, and the Fat Controller owns a mansion around here as well.
In Sodor Adventures, the shed has four berths for Edward, BoCo, Bill and Ben.
In Thomas' Sodor Adventures, the shed has two berths for Geoffrey and BoCo.
Trivia
It is occasionally misspelt as "Ellsworth".
In the eleventh season episode, Edward and the Mail, Wellsworth was referred to as a Post Depot.
In some of the episodes in the seventeenth season, the asphalt around the station and tracks changes to grass and stones.
Community content is available under
CC-BY-SA
unless otherwise noted.