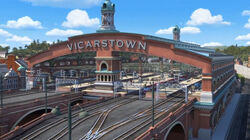 Vicarstown
is a town right before Barrow-in-Furness. The North Western Railway built their terminus and headquarters here in 1915, but after a 1925 agreement with the LMS Railway to allow NWR trains to stop in Barrow-in-Furness there was no further use required. A smaller replacement station was built for the engines operating the car ferry service, and the turntable was relocated at Barrow and the headquarters moved to the other end of the main line at Tidmouth. There are also some 
sheds
located near here, and the 
Dieselworks
seems to be located around Vicarstown as well.
Adventures on Rails
In Adventures on Rails, there are various companies that work around here.
Crovan's Gate found it difficult to do repairs, especially with Project 11001- to build a replica of the Bulleid Diesel prototype No. 11001 coming up. So, they began in 1952 to build a Dieselworks, and found Vicarstown convienent, since it was also undergoing restoration. By 1961, it had been completed and Project 11001 was able to undergo process. Vicarstown Dieselworks went under maintence in 1988, and they purchased Den and Dart in 1991 to help out with work there with Diesel 10.
Until 1940, coal was brought to Sodor from the Other Railway. However, their coal varied and was at times poor, as Henry found out. When the war broke out, several British military accidently found it whilst sheltering. The coal has been found to be good quality and burns well. After the war, rails were layed through the village and Percy volunteered to work there, but the Fat Controller purchased Dodger to help there, and so he has joint Vicarstown Coal Mines-North Western Railway ownership. There is also a small village a couple miles north of the Mines.
Vicarstown Lumber Company
The now nick-named Henry's Forest is in Vicarstown, and for old or dying trees they often make furniture out of them. They are also in charge of pruning the trees near tracks on the Main Line..
In the television series, Vicarstown sheds is a roundhouse with a turntable at the front and five berths for the engines.
Before working his branch line, Thomas worked at the station as a pilot.
The name comes from the Reverend W. Awdry's time as an Anglican priest, and on maps of Sodor it replaces the real Vickerstown, a suburb of Barrow situated on the Isle of Walney.
The Sodor Dieselworks and Vicarstown Bridge are located here.
In Railway Heroes, Gordon, Henry, Hank and Murdoch live here. Hiro occupies the fifth space when he is visiting. 
Community content is available under
CC-BY-SA
unless otherwise noted.