About Me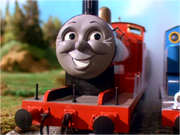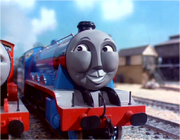 Hi, I'm Semaj5nodrog4. I'm sure some people remember me from the Thomas and Friends Wiki. Like I said on that wiki, I've been a huge fan of Thomas the Tank Engine since the Shining Time Station era and I have several Thomas stories of my own that I want to share (some of which I did post on that wiki before the blogs were taken down). I will be happy to share them with you all and I hope you like them.
I am also one of the admins on this wikia, so if you have any questions or requests, feel free to ask me, MainLineEngines, Mays, or Poodabran anytime and we'll be happy to help.
For my series, The Many Adventures on the Island of Sodor, I tend to focus more on several different characters on the Island of Sodor rather then just Thomas and the Steam Team. I believe that almost every character, even if they were a one-timer, can have at least one story written about them and I try to do that in my series. Thomas, Percy, James, and the rest of the Steam Team still get a staring role, but I try to keep things even between them and all the other characters.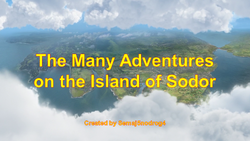 Also, as a big fan of the television series, I try to keep everything in my series true to it in terms of character portrayals and what is currently happening. Andrew Brenner and his writing team have helped improve the series so much since they joined in 2013 and they have made so many good episodes over the years and they are the ones that inspired me to writing stories again. Also, like them, I try to add in a reference or two to the television series and Railway Series stories as well since I believe it adds some humor to the episodes and keeps everything canon with each other.
I also created The Many Adventures on the Island of Sodor as way to showcase my writing talents. I have always enjoyed writing, but I felt the strongest when it was about Thomas and his friends. I don't know why, but there was something about the way the series was written that was always so calming, enjoying, and entertaining that I just connected with so much. So that's why I enjoyed writing about Thomas and his friends.
Lastly, if you haven't read my stories yet, feel free to and feedback is always welcome!
My Favorite Characters
(All of the other characters are my favorite too, but these are the ones I like the most.)