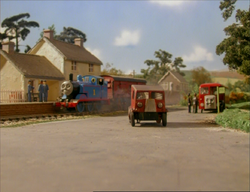 Toryreck is a village and station on Thomas' Branch Line. Here, a goods line to Knapford Harbour splits from the branch line. The goods line was the original route to Knapford, but it was later realigned to service the harbour, with a new track from the main line joining the old one at Toryreck Junction, south of the station. The main branch joins the harbour line just to the west of the station. There is also a passing loop, which is rarely used.
Toryreck was A. W. Dry's headquarters during his company's plan to reclaim some of the surrounding valley from the sea, and was developed as a centre for lead mining. Although the lead veins have since ran out and were closed in 1930, the lines running there are still used, as the old workings are now mined for uranium.
There is also a dairy serviced by a station. Wilbert once accidentally took on milk after his crew confused the water pipe with the milk hosepipe. The airfield which Harold lives at is also located nearby.