Jurassic World: Dominion Dominates Fandom Wikis - The Loop
Play Sound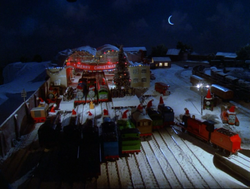 Tidmouth is one of the main stations on the North Western Railway.
Bio
Tidmouth is a town situated on the River Tid Estuary, on Sodor's west coast. With a population of 35,000, it is the largest town on Sodor. It is home to the headquarters of the North Western Railway and the main line sheds.
The Tidmouth, Knapford and Elsbridge Light Railway reached the town via a road-side tramway from Knapford, which was destroyed after a gale in the autumn of 1908. A treasury grant was obtained in 1910 and a tunnel was built. In 1916 the North Western Railway completed another tunnel, this time with an extra line, and Tidmouth's value as a harbour began to be used.
The passenger station, known as the "Big Station" in the books, has four terminal lines and a "through" road leading to the Arlesburgh branchline, sheltered by a glass roof.
The Tidmouth station has four platforms, a glass roof, and about eight trains a day. It contains the Fat Controller's office, and is the station where HM Queen Elizabeth visited Sodor. Gordon also pulls his Express out from there every day.
The local economy mainly comes from shipbuilding, fishing and heavy industry.
Though Tidmouth is still in the television series, it has been replaced by Knapford as the biggest station and by Brendam as Sodor's main port. It only appeared in the second and third seasons. Lower Tidmouth and Tidmouth Hault have also been seen in episodes. It was later mentioned in the seventeenth season episode, Gordon Runs Dry.
In Adventures on Rails, it is the main station and terminus of the Main Line. It has six platforms, similar to Knapford, but all except the middle two go through the station. The main port is also Tidmouth Harbour. Norman is usually in charge of shunting duties around here. There is also a Yard where coaches and trucks are shunted when not in use.
In Sodor Adventures, Dennis and Rosie are usually seen shunting here. There is a yard where coaches and trucks are shunted. There's also a harbour here, but it isn't used as much as Brendam Docks.
Trivia
The town's motto is "Industry and Progress".