The New Adventures on Rails
is a continuation of
Adventures on Rails
.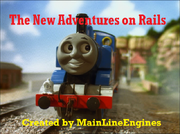 This series includes single-stories written after the series finale of
Adventures on Rails
. The first story of the first volume was released on 5 March 2019 and concluded on 29 December 2019. The first story of the second volume was released on 5 January 2020.
Overview
The series was created by MainLineEngines to formally catalogue all the episodes that had been released. Originally, the writer had planned to focus just on shorts after the release of Ceremonium. It was not until early 2018 that the thought of going back to single stories came back. During the writing of That's What Friends Are for, there came many news ideas. One was the introduction of Jessie, as the 'Austerity' tank engine the Fat Controller planned to acquire after Wilbert's trial. Also, Dodger, David, and Molly were given proper backstories. All this cemented the Writer's writing style and with that came a lot of story ideas. These were going to be put on hold, then the Writer thought again and decided to write them out and release them periodically. The first episode released was Dirty Sidings on 5 March 2019, followed by two more on 11 March. Story ideas kept coming and the number of episodes grew to twenty-six by 29 December.
These stories use the most up-to-date information about each engine. They are slightly different from previous Adventures on Rails seasons in terms of writing style which has changed over the past few years. Not all the stories from the original series carry into this new series. In fact, certain things have been retconned by the Writer to make it more in line with his standards.
Volumes
The series will be divided into volumes. There is no fixed number of stories that will be released nor any specific release dates, although the first day of the month tends to be quite common.
The first volume contains twenty-six episodes which were released from 5 March to 29 December 2019.
Currently in progress.
Community content is available under
CC-BY-SA
unless otherwise noted.