Jurassic World: Dominion Dominates Fandom Wikis - The Loop
Play Sound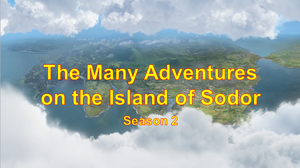 The second season of The Many Adventures on the Island of Sodor first premiered in October 2018 and finished airing in June 2021. A total of 20 episodes were published as well.
A Christmas special was also set for December 2018 as well, but due to production delays, it was initially canceled, but was eventually published in December 2019.
Episodes
Screenshot
Title
Written by
Original Publication Date
Episode Number
BoCo's Return
Semaj5nodrog4
October 5th, 2018
1
When BoCo comes back to Sodor, Bill and Ben try to prove to him that they have changed and are really useful engines.
BoCo's Boxcab Bother
Semaj5nodrog4
November 15th, 2018
2
BoCo finds adjusting to Philip harder than he thought when he gets acquainted with the little diesel boxcab.
Bill and Ben's Big Mistake
Semaj5nodrog4
January 24th, 2019
3
Bill and Ben become jealous of BoCo and Philip's friendship and decide to take matters into their own hands.
Rosie Takes Over
Semaj5nodrog4
February 27th, 2019
4
Rosie is chosen to take care of Thomas' branchline while he's being repaired and she receives praise for her work, which bothers Thomas.
Daisy Does it All
Semaj5nodrog4
April 26th, 2019
5
After Ryan has an accident, Daisy is left to take care of the Harwick branchline all by herself, which upsets her.
Henry Knows Best
Semaj5nodorg4
May 23rd, 2019
6
Henry isn't chosen to take the Flying Kipper for once, but when Emily is chosen instead, he becomes skeptical.
Arthur's New Route
Semaj5nodrog4
August 2nd, 2019
7
When Arthur reveals he doesn't have enough work on the Norramby Branchline, Thomas tries to figure out what he can do to help him.
Clean vs. Dirty
Semaj5nodrog4
September 14th, 2019
8
Arthur gets paranoid about ruining his spotless record after things don't go his way while working.
Edward's Escapade
Semaj5nodrog4
October 30th, 2019
9
Edward proves he's not as old or slow as some of the bigger engines say he is when an emergency occurs.
Second Rate Engines
Semaj5nodrog4
January 29th, 2020
10
Gordon gets fed up with Spencer's constant teasing and goes too far, but then the two engines learn a lesson about being too competitive.
Peter Sam and the Lost Engine
Semaj5nodrog4
March 27th, 2020
11
After hearing rumors about a lost engine, Peter Sam goes to search for it himself, and is surprised at what he finds.
The Search for Neil
Semaj5nodrog4
May 3rd, 2020
12
Skarloey leads a search party around Sodor to find Neil after he gets convinced the engine is hiding somewhere on the island.
Mother Mavis
Semaj5nodrog4
June 18th, 2020
13
Mavis' patience is put to the test when Frankie is brought in to help her at Ffarquahr Quarry.
Harold in Space
Semaj5nodrog4
August 6th, 2020
14
After hearing about a space convention happening, Harold becomes interested in space, but he doesn't want to admit it to his friends.
Diesel's Good Deed
Semaj5nodrog4
September 8th, 2020
15
Diesel still has a grudge against Duck from their infamous incident, but then something happens that may or may not change his mind.
True or False?
Semaj5nodrog4
October 29th, 2020
16
Timothy does not know who or what to believe when Bill and Ben warn him about Hector the hopper truck.
Max and Monty's Wasteful Day
Semaj5nodrog4
February 2nd, 2021
17
Max and Monty pay for their foolish and troublesome behavior when they are put on garbage collecting duties.
Slow and Steady
Semaj5nodrog4
March 16th, 2021
18
After George causes trouble while paving new roads with Buster, he learns a lesson about being so reckless.
Paint the Town Red
Semaj5nodrog4
April 14th, 2021
19
After realizing there are many red engines on Sodor, James does everything he can to keep everyone's attention focused on him.
All for Thomas
Semaj5nodrog4
June 28th, 2021
20
After a storm nearly destroys the Ffarquhar Branchline, Percy does everything he can to help repair and make Thomas happy again.
🎄Christmas Special
Screenshot
Title
Written by
Original Publication Date
Episode Number
Thomas' Wonderful Life
Semaj5nodrog4
December 24th, 2019
N/A
Thomas is given three special jobs for the annual Christmas party. However, a series of events almost ruins the party and Thomas believes it's all his fault. He feels down and in denial and begins to wish he never came to Sodor, but a special friend helps him realize just how special Thomas is to everyone.
Characters
Trivia
This season is set within the events of the twenty-first season of Thomas & Friends. This includes the following changes from the previous season:

Rosie appears in her new red livery.
Wellsworth Sheds appears.
Edward lives at Wellsworth.
Big Mickey appears with a face.
Carly and Bulgy appear.
Gallery
Promotional Images
Special