Jurassic World: Dominion Dominates Fandom Wikis - The Loop
Play Sound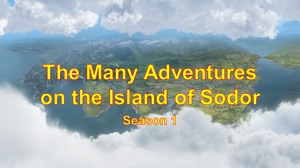 The first season of ​The Many Adventures on the Island of Sodor​ series first premiered in July 2016 and finished airing in September 2018. A total of 20 episodes were published as well.
Episodes
Screenshot
Title
Written by
Original Publication Date
Episode Number
Double Diesel Trouble
Semaj5nodrog4
July 13th, 2016
1
Working at Brendam Docks can be difficult sometimes, but it gets even harder when Splatter and Dodge are brought in to "help."
A Bad Day for James
Semaj5nodrog4
July 22nd, 2016
2
James learns the hard way that you should not take Friday the 13th lightly.
Paxton Gets Pranked
Semaj5nodrog4
September 30th, 2016
3
Diesel has some fun with Paxton when the gullible diesel tries to find out who Duck is.
Duncan in Love
Semaj5nodrog4
October 22nd, 2016
4
Duncan thinks the idea of Valentine's Day is silly, but he soon changes his mind after a visit to Ulfstead Castle.
Daisy the Green-Eyed Railcar
Semaj5nodrog4
November 14th, 2016
5
Daisy finds her fame on the Harwick Branch Line fading away when Flora helps her out.
James and the Railway Inspector
Semaj5nodorg4
December 1st, 2016
6
A little memory from James' past comes back to taunt him when a railway inspector comes to the island.
The "Special" Visitors
Semaj5nodrog4
January 18th, 2017
7
Thomas tries to figure out who his special passengers are when they are seemingly regular people, but apparently know so much about the railway.
The Joke's on Them
Semaj5nodrog4
February 22nd, 2017
8
Bill and Ben are known for their tricks, but Timothy shows he knows a thing or two about playing tricks as well.
One of the Family
Semaj5nodrog4
April 9th, 2017
9
Ryan does more than he can handle when he tries to prove he can be like Gordon and Spencer after discovering he is related to them.
Bertie Rides the Rails
Semaj5nodrog4
April 22nd, 2017
10
Bertie is proud of being a bus and riding on the roads, but when he decides to test the rails out, he gets more than what he wanted.
Brake Van Bother
Semaj5nodrog4
June 2, 2017
11
Donald and Douglas have an interesting experience with Bradford the brake van when he comes back to Sodor.
Toby Gets Tough
Semaj5nodrog4
June 14th, 2017
12
When three utility wagons, called the Trio of Trouble, cause trouble in the yard, Toby tries to figure out how he can make them stop.
A Friend in Ferdinand
Semaj5nodrog4
July 26th, 2017
13
Ferdinand tries to prove he, Bash, and Dash are really useful engines when a storm hits Sodor and destorys Henry's Forest.
Terence, Max and Monty
Semaj5nodrog4
September 24th, 2017
14
Max and Monty tease Terence about his size, but they soon learn a lesson about this after a mishap in the snow.
Rock 'n' Rolling Again
Semaj5nodrog4
November 2nd, 2017
15
Duncan creates havoc on the Skarloey Railway when he starts to "rock 'n' roll" again.
Luke's Lucky Find
Semaj5nodrog4
January 9th, 2018
16
While trying to find a new attraction for the Skarloey Railway, Luke gets lost along the way and makes an interesting discovery.
Old Engine, New Changes
Semaj5nodrog4
February 23rd, 2018
17
When Duke comes back to the Skarloey Railway, he has quite the experience when he meets Sir Robert Norramby.
Duke Does it Again
Semaj5nodrog4
April 11th, 2018
18
Duke once again proves that he's not as old as he seems when Mighty Mac runs into trouble.
Franklin the Forklift
Semaj5nodrog4
July 5th, 2018
19
When work becomes backed up at Brendam Docks, Sir Topham Hatt brings in a new forklift named Franklin to help with the heavy workload.
Franklin All Around Sodor
Semaj5nodrog4
September 4th, 2018
20
Franklin gets more than he asks for when he works away from Brendam Docks for the day.
Characters
Characters Introduced
Trivia
This season is set within the events of the twentieth season of Thomas & Friends.
Gallery
Promotional Images
Characters Introduced