Jurassic World: Dominion Dominates Fandom Wikis - The Loop
Play Sound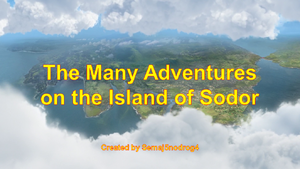 The Many Adventures on the Island of Sodor is a fan-made series created and written by Semaj5nordog4. It is an ongoing continuation of the adventures that Thomas the Tank Engine and his friends encounter everyday and they prove that everyone has some interesting experience on the Island of Sodor that proves life is nothing short of entertaining.
The first season premiered in July 2016 and finished airing in September 2018.
The second season premiered in October 2018 and finished airing in June 2021. The Christmas special premiered on Christmas Eve in December 2019.
Episode #
Title
Publication Date
1
Double Diesel Trouble
July 13th, 2016
2
A Bad Day for James
July 22nd, 2016
3
Paxton Gets Pranked
September 30th, 2016
4
Duncan in Love
October 22nd, 2016
5
Daisy the Green-Eyed Railcar
November 14th, 2016
6
James and the Railway Inspector
December 1st, 2016
7
The "Special" Visitors
January 18th, 2017
8
The Joke's on Them
February 22nd, 2017
9
One of the Family
April 9th, 2017
10
Bertie Rides the Rails
April 22nd, 2017
11
Brake Van Bother
June 2nd, 2017
12
Toby Gets Tough
June 14th, 2017
13
A Friend in Ferdinand
July 26th, 2017
14
Terence, Max and Monty
September 24th, 2017
15
Rock 'n' Rolling Again
November 2nd, 2017
16
Luke's Lucky Find
January 9th, 2018
17
Old Engine, New Changes
February 23rd, 2018
18
Duke Does It Again
April 11th, 2018
19
Franklin the Forklift
July 5th, 2018
20
Franklin All Around Sodor
September 4th, 2018
Episode #
Title
Publication Date
1
BoCo's Return
October 5th, 2018
2
BoCo's Boxcab Bother
November 15th, 2018
3
Bill and Ben's Big Mistake
January 24th, 2019
4
Rosie Takes Over
February 27th, 2019
5
Daisy Does it All
April 26th, 2019
6
Henry Knows Best
May 23rd, 2019
7
Arthur's New Route
August 2nd, 2019
8
Clean vs. Dirty
September 14th, 2019
9
Edward's Escapade
October 30th, 2019
10
Second Rate Engines
January 29th, 2020
11
Peter Sam and the Lost Engine
March 27th, 2020
12
The Search for Neil
May 3rd, 2020
13
Mother Mavis
June 18th, 2020
14
Harold in Space
August 6th, 2020
15
Diesel's Good Deed
September 8th, 2020
16
True or False?
October 29th, 2020
17
Max and Monty's Wasteful Day
February 2nd, 2021
18
Slow and Steady
March 16th, 2021
19
Paint the Town Red
April 14th, 2021
20
All for Thomas
June 28th 2021
Specials