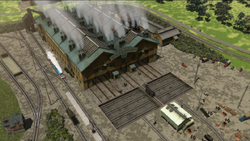 The Sodor Steamworks is situated on the Main Line at Crovan's Gate. It is the main repair yard for the North Western Railway where all the essential components for the steam engines are made and heavy overhauls are carried out. The company's logo is a chimney with steam coming out surrounded by a large cog wheel and can be found on their locomotives, rolling stock, vehicles, and staff uniforms.
Bio
In Adventures on Rails, it was opened in 1915 when Thomas arrived on the Island. It since then has increased in production, such as the acquistion of Victor, a narrow-guage tank engine who helps to move parts and help keep things running, and Kevin a crane who moves parts around.
At Day, it is inhabited by Duke, Nia, and Lady.
At Night, it is inhabited by Victor, Kevin, and Smudger.
Equipment
The site of the Steamworks consists of:
Transfer table with dual gauge tracks
Turntable
Foundry
Forge with a steam hammer
Boiler Shop
Machinery Area with lathes
Painting Area
Hot-Air Blowers
Locomotive Hoist
Inspection Pit
Assembly Area with standard gauge and narrow gauge railway lines
Storage Shed outside the Steamworks for Kevin and Victor to sleep at night
Coal hopper on the side of the building
Trivia
The Skarloey Railway runs from the Steamworks.
In Adventures on Rails, it is referred to as the Crovan's Gate Steamworks.