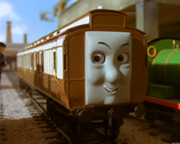 Old Slow Coach is a Great Western Victorian luxury coach that Thomas and Percy rescued from scrap.
Bio
She was built in 1893 for the Great Western Railway. She was among the most elegant rolling stock, but was eventually replaced by more modern rolling stock, and by 1968, she too had landed in the scrap heap. Luckily, Percy had been in a dilemma in getting Mrs. Kyndley's daughter an 'old' item for her 'good luck' package. She was restored just in time, and since then has been working on the Little Western with other Great Western engines, but mostly on the Ffarquhar Branch with Thomas, Toby, Daisy, and Percy.
In Adventures on Rails, Percy saved her from scrap to use her as part of the 'good luck' package for Mrs. Kyndley's daughter's wedding. Since then, she is mostly a VIP coach, sometimes used on the Express or on Thomas' Branch Line. It was revealed in the sixteenth season that she had been on the Bluebell Railway for a while, and now returned to Sodor to stay. It has also been confirmed she will play an important role in the cliffhanger for the eighteenth and ninteenth season.
Persona
She is a kind, old coach who is friendly to all the engines. She dislikes to be left in the Yard for a long time, and likes to go out on journeys.
Basis
Old Slow Coach is a Falmouth Coupe TRI Composite coach, built in 1893 for the Great Western Railway.
Livery
She is painted in Great Western's chocolate and cream livery.
Appearances
Adventures on Rails
Specials:
Sodor Adventures
Specials:
Community content is available under
CC-BY-SA
unless otherwise noted.