These are minor human characters who are not very known in the series. Here they are.
Mrs. Kyndley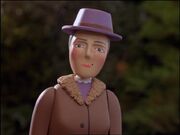 Mrs. Kyndley is an old lady who lives in a cottage near Hackenbeck Tunnel on Thomas' Branch Line. 
Appearances
Sodor Adventures
Specials:
Jem Cole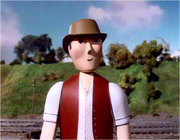 Jem Cole 
works at the Vicarage Orchard and is 
Trevor
's driver, as well as a friend of The Vicar of Wellsworth. He sometimes drives 
Terence
and
George
. 
Appearances
Sodor Adventures
The Many Adventures on the Island of Sodor
The Adventures on Sodor
Lord Callan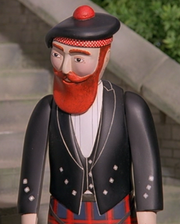 The Scottish-born Lord Callan is the lord of Callan Castle and the surrounding land, including the infamous Castle Loch. 
Appearances
Sodor Adventures
The Adventures on Sodor
Mrs Billington
Mrs. Billington is an archaeologist on Sodor who lives near the Skarloey Railway. She helps run the Sodor Museum and has led many expeditions in the past. Once she and Bertram were trying to find more artifacts, and with the help of some runaway trucks, managed to find a Tyrannosaurus Rex skeleton. Because of their shared interests, the two are good friends. Mrs. Billington is fascinated with history and likes to find things.
Appearances
Sodor Adventures
She will appear in future stories.
David Jones
David Jones was a temporary mailman on Sodor. He at first was a very unpleasant person and believed that mail vans should give out the mail instead. Once he was assigned to take over Tom Tipper for a while, but instead caused misery and confusion for the engines. Complaints were filed in and he was found out by the Sodor Mail Company. He was given a lecture and eventually fired. It is unknown what happened to him afterwards.
Appearances
Sodor Adventures
Community content is available under
CC-BY-SA
unless otherwise noted.