Jurassic World: Dominion Dominates Fandom Wikis - The Loop
Play Sound
Lady is a small, Victorian-styled tank engine who runs on the Magic Railway. Her owner is Burnett Stone.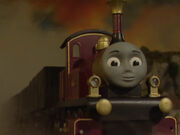 Lady

Gauge

4'8.5" (1435mm, standard gauge)

Vehicle

Steam engine

Fuel

Coal

Wheel configuration

0-4-0T

Wheels

4

Owner

Burnett Stone
Biography
Lady came to Sodor a long time ago and was found by Diesel 10, who threatened to destroy her. She ran away with her owner, Burnett Stone until she used up all her coal and was crashed. She was taken back to Muffle Mountain and Burnett spent years restoring her and making her steam again. Slowly, the Magic Railway's energy was beginning to fade. When Burnett's granddaughter, Lily, came to visit, she and Thomas discovered that she needed special coal from the Island of Sodor. Arrived back on Sodor, Diesel 10 found her and chased Lady and Thomas where Diesel 10 eventually met his fate on the Viaduct that collapsed. Finally, Lady gave the Conductor family the gold dust they needed and the Magic Railway was safe once again.
She appeared in Thomas's dream telling him how to resolve the fall-out between the diesel engines and steam engines.
Livery
Lady is painted red-violet with gold head-lamps, tail-lamps, buffers, smoke-box, funnel top, dome, whistle, side-rods, lining, and her name on each side of her tank. She is also painted a dark purple on her cab roof, lower funnel section, and her footplate.
Lady inhabits the Sodor Steamworks at Day with Duke and Nia.
In the Gender Bent Universe, her counterpart is Lach.
Trivia
She does not seem to have any particular basis.
She is the first standard gauge steam engine not created by the Rev. W. Awdry.
Originally, her only form of communication was with her whistle. Due to numerous changes in the production of Thomas and the Magic Railroad, Britt Allcroft voiced her to ease things over.
The life-size prop of Lady is currently in Florida, awaiting restoration.
In Thomas' Bizzare Adventures, She got a Brand New Look, She is now Streamlined with Purple Paint and New White Wheels fitted in by Victor.

She also now has a New Owner due to Burnett Stone's (Peter Fonda) Death, Who is Lily Stone, Who is All Grown Up.