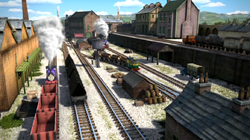 Knapford Yards is a large shunting yard located north of Knapford station. It has many tracks and sidings for trucks and for engines to shunt and it has a higher level section of tracks running through, though it is unknown where those tracks go.
Charlie and Stafford are based here and Stanley and Philip have been seen working here occasionally as well.
The yard's appearance had changed constantly between the second and tenth seasons of the television series, but has remained consistent since the eleventh season onwards.