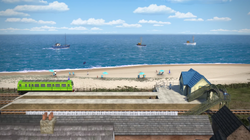 Harwick is a Sudrian fishing town with a population of 5869 at the end of 1981. There is a lighthouse, lifeboat, and coastguard, as well as a ferry service to Ramsey on the Isle of Man. It attracts tourists after peace and quiet.
There is a myth that Vikings planned to plunder Harwick during the sixth century, but were converted by St. Machan in awe of his fearlessness. It is most likely false - Vikings did not begin raiding Sodor until the eighth century.
On some maps of Sodor, a line has been shown running towards Loey Machan from Harwick's east. This is the only remainder of earlier railway proposals to connect Harwick with Cronk via Peel Godred. The line, however, had only reached the village of Cregwir before funds ran out. The line was used solely as a horse-drawn freight line between Cregwir's quarries and the port at Harwick. The line was later pulled for the war effort during World War II.
On at least two of the Reverend W. Awdry's early maps of Sodor, the aforementioned line is not shown; in its place is a short narrow gauge line from Harwick to Ballaswein, a few kilometres to the north. This line wasn't mentioned in The Island of Sodor: Its People, History and Railways in favour of the line to Cregwir. It is possible it was simply an idea Wilbert and his brother George played with but scrapped. However, the narrow gauge line later appeared on the map of Sodor featured in the endpapers of Thomas the Tank Engine: The Complete Collection.
At any rate, there were plans to extend the Tidmouth-Arlesburgh branch line to Harwick, but nothing came of them.
Mr. Peter Sam found an old saloon coach in a garden here in 1959.
In Adventures on Rails, there will be an extension from Arlseburgh to Harwick and Ballaswein and the Sodor Suspension Bridge will be located around here.