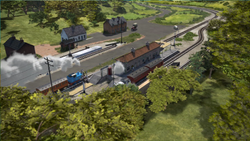 Ffarquhar
is the top station of
Thomas' Branch Line
. The engine and carriage sheds are located here, as well as a line leading to
Anopha Quarry
. No engines are allowed on that line, except
Mavis
and
Toby
.
It's Thomas' favourite station, as revealed in the fifth season episode Baa!.
History
Ffarquhar station was built as an extension of Thomas' branch line from Hackenbeck, to provide an outlet for the stone from the Quarry at Anopha Fell.
In earlier books, Ffarquhar looked considerably different to the later version familiar to readers. Wilbert Awdry explained this away in The Island of Sodor: Its People, History and Railways in the form of a letter by Mr. Kevin Volley, former stationmaster at Ffarquhar, as being the result of errors by the artist.
Trivia
The Welsh-sounding name "Ffarquhar" is a made-up word derived from "Far-away quarry" by the Reverend W. Awdry and his brother George.
Tom Tipper the postman brings mail to the station for Percy to take to Knapford.
It is a designated stop for Bertie.
Community content is available under
CC-BY-SA
unless otherwise noted.