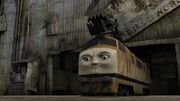 Diesel 10 is the largest diesel on Sodor.
Bio
He first appeared in Thomas & the Magic Railroad trying to scrap Lady. He then in Misty Island Rescue he told the steamies they would be laughing on the other side of their boilers. In Day of the Diesels he tricked Percy into helping him take over the SteamWorks along with Diesel, 'Arry, Bert, Paxton, & Norman.
Appearences
Normal Seasons
Season 2- A Revenge from Coaches (cameo) and, The Paint Store (Season Finale)
Season 3- DieselWorks Trouble, A New Look Redux (mentioned), The Ultimate Diesel Guide, Den in Charge, Oil & Trouble Dart (mentioned)
Season 4- A Thanksgiving Celebration, The Truck (episode) (cameo), A Really Useful Engine (cameo), A Day at the DieselWorks (flashback only), Snowploughs and Buffers, Edward Proves A Point, The Winter Solstice (non-speaking role), A Christmas Special (non-speaking role), Douglas' Special Train, A Really Useful Diesel (mentioned),
Specials
Trivia
The claw is an illegal modification.
He is the biggest Diesel on Sodor.
He will appear in Season 4
Along with Den & Dart he runs the DieselWorks and is the main manager.
He has trouble getting into his shed at the DieselWorks.