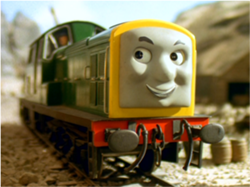 When Diesel 10 plots his revenge against the steamies BoCo, Derek, Bowler, and Old Stuck Up return to Sodor and want to take over. Now Diesel 10 has to help Thomas get rid of them. Can they get it done?
Characters
Thomas
Percy
James
Emily
Toby
Derek
Old Stuck Up
Diesel 10
BoCo
Bowler
Sir Topham Hatt
Cast
Rudy Reiner as Thomas.
Morton Grop as Percy and James.
Meryl Streep as Emily.
Kerry Shale as Toby.
Tim Curry as Derek and Old Stuck Up.
Christopher Smith as Diesel 10.
Jonathon Freeman as BoCo.
Eric Rickstone as Bowler.
Dennis Vones as Sir Topham Hatt.