We're Getting Mutants in the MCU - The Loop
Play Sound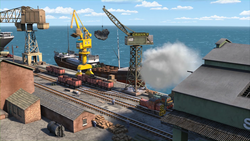 About
Brendam, also known as Brendam Docks or Brendam Bay  , is a town with a population of 5,000. It is the top station for Edward's Branch Line and an important harbour. Bill and Ben bring china clay from the nearby China Clay Workings, and it is shipped to the mainland.
The Sodor China Clay Company, established in 1948, occasionally hosts days when enthusiasts may look around. Bill and Ben particularly enjoy the attention these visitors give them.
Brendam is also home to Cranky, who always loads and unloads cargo to and from the dock, Porter, a new tank engine, and Salty, who loves to work at the Docks and tell tales of the sea.
In the television series, a coastal branch line runs from the port, and is mainly used for fish traffic. It also appears that the express stops here on its way to Vicarstown, to collect passengers from the many ocean liners that come in here. In the second and third seasons, there was a station near the docks, but it has not been seen since. In the fifth and sixth seasons, there was a large goods shed nearby Cranky, but after he accidentally knocked it over, it has not been rebuilt or seen since. The mail barge also docks here. The docks here are large and extensive, with many warehouses, cranes, rail yards and canals.
At Day, it is inhabited by 'Arry & Bert.
At Dusk, it is inhabited by Big Mickey, Carly, and Porter.
At Night, it is inhabited by Cranky.
Brendam Docks is a stage. This stage is the home stage of Porter and Salty. The stage itself is a
Cranky, Big Mickey, and Carly are present in the background, loading and unloading ships. During the fight, they will occasionally swing boxes into the battlefield, which deal damage and knockback to anyone hit. In the No Hazards version, the three cranes will never swing boxes into the battlefield.
Appearances
Adventures on Rails
Specials:
The New Adventures on Rails
The Engines of Sodor
Sodor Adventures
Season 1

-

Races

,

Stuck in the Mud

,

Where's BoCo?

,

The Crashing Kipper

,

The Wrong Way

,

Harvey Goes Fishing

,

Be On Your Guard!

,

Trust Paxton

, and

Diesel Domination

(mentioned)

Season 2

-

Fergus the Generator

,

Hiro and the Express

,

The Importance of Being Neville

(mentioned), and

Independence

Season 3

-

Edward and the Poachers

,

Mavis and the Track Repairs

,

CoBo

,

The Seaside Ghost

, and

Cold Chaos

Season 4

-

Too Much of a Good Thing

,

Famous Engines

,

Scrap Sculpting

,

The Wrong Sort of Coal

, and

Sea Rescue

Season 5

-

The Big City Engine

,

Thumper and the Avalanche

,

Stanley's Branch Line

(mentioned), and

Samson and Logan

Season 6

-

The New Diesel Fuel

,

Percy and the Grass Snakes

(mentioned), and

Timothy the Ghost Engine

Season 7

-

Young and Old

,

Love for the Sea

, and

Salty and the Small Engines
Specials:
Thomas and Percy

Thomas and the Ghost Engine
The Adventures on Sodor
Season 1 - Geoffrey's Real, Tankers of Doom, Edward Tries His Best, Henry the Warrior, The Great Western Way (mentioned), Harvey's Goods Train, Scottish Engines, Salty's Secret Story, Big Strong Murdoch, Bill and Ben (episode), Scruff the Scrapper (mentioned), Fergus and the Small Engines, and Tinsel on the Tracks (mentioned)
Season 2 - Unique Engines (flashback), Haunted Henry's Forest, The New Controller, Trouble with Brake Vans (mentioned), Back to Misty Island (mentioned), and Sidney Gets Lost (mentioned)
Specials:
The Many Adventures on the Island of Sodor
Season 1 - Double Diesel Trouble, Paxton Gets Pranked, Brake Van Bother (mentioned), A Friend in Ferdinand (mentioned), Rock 'n' Rolling Again (mentioned), Franklin the Forklift, and Franklin All Around Sodor
Season 2 - BoCo's Return, BoCo's Boxcab Bother, Bill and Ben's Big Mistake, Rosie Takes Over (mentioned), Henry Knows Best, Arthur's New Route (mentioned), Edward's Escapade (mentioned), Mother Mavis (mentioned), Harold in Space (mentioned), Diesel's Good Deed (mentioned), True or False?, Max and Monty's Wasteful Day, and Paint the Town Red
Specials:
Sudrian Stories
Stories from Sodor
Tales of Sodor
Gallery