Alpha (real name Alyssa) is a friendly and supportive tank engine.
The Legends of Sodor
Alpha arrives on Sodor with Curtis, Kilo, and Hotel. When Curtis insults the engines of Sodor, Alpha is the one who soothes their hurt feelings. She admits to the Steam Fighters that she feels conflicted about their controller's decision. Before they ask her what she means by that, Curtis calls her away.
A few months later, Alpha and her friends arrive back on Sodor, but this time, Curtis bought Sir Nathaniel Sharp, their controller. While Curtis takes Sir Nathaniel to see Sir Topham Hatt, Alpha greets the Steam Fighters, and introduces them to Kilo and Hotel.
Later, when she hears of Curtis' accident, she goes to rescue him. But to hers (and everyone else's) dismay, Curtis has not changed, becoming even more infuriating and controlling than before.
Basis
Alpha is based on the GNSR Classes X and Y, specifically the X class. The two classes were similar, and were used throughout their lives to shunt on the docks at Aberdeen. They passed to the London and North Eastern Railway at the 1923 grouping, and received the LNER classification Z5. The class X were later reclassified Z4.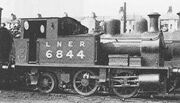 Livery
Alpha is painted Tyrian purple with yellow lining. She has the initials GNSR on her tanks in silver and a gold alpha symbol on her bunker.