Volume three of Adventures on Rails will contain all stories released in 2021. The first story was released on 3 January 2021. This volume follows the continuity of The New Adventures on Rails with volume one and volume two.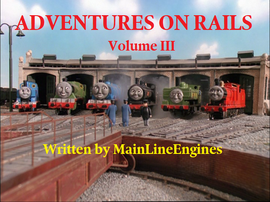 Currently, there are twenty-six stories planned.
Stories and release dates
Characters
Terence, Timothy and the rest of the Skarloey Railway engines are also likely to appear.
Characters Introduced
Jenna - LMS Fowler 3F (known as Jinty) who comes to act as a banker for trains going up Gordon's Hill.
Pug - LMS Kiston 0F who comes to help out with the shunting at the Big Station. He had previously visited Sodor in 1957.
Jinty (mentioned) - It was revealed by Jenna that he was unfortunately scrapped although in doing so, he indirectly saved her from scrap.
Trivia
This volume will celebrate the tenth anniversary of the series.
The first details were revealed on 27 December 2020.
The first two stories are connected to the stories Henry, James and the Lucky Trucks and Percy's Lucky Day. They are featured in You Lucky Engine.
Visiting Engines was released during this volume as part of the tenth anniversary celebration.
Gallery