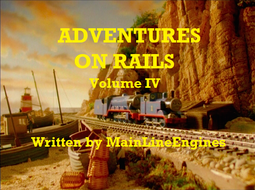 Volume four of Adventures on Rails will contain twenty-four stories. The first story was released on 9 January 2022 and it will conclude on 25 December 2022.
This volume will follow the continuity of The New Adventures on Rails which consists of volumes one (2019), two (2020), and three (2021).
Stories and release dates
Characters
Queen Elizabeth II (mentioned)
Oliver, David, and several others are also likely to appear alongside the Skarloey Railway engines, who will also be featured.
Trivia
The volume was formally announced on 12 December 2021 along with specific details.
This volume will be split into two parts. The first will be classified as volume IV-A, and will feature six stories which are ideas that have been postponed or set in a different time period. These six stories will be released between January and April sparingly. Volume IV-B will begin in May 2022, and from there, all the major changes and arcs will resume in the remaining eighteen stories. There will also be more original stories and more regular releases. The reason for this is to help the Writer balance schoolwork and other activities whilst still being able to release stories. This will also allow for some older ideas to be fulfilled and then segue-way into more original stories.
Since there are twenty-four stories planned, the finale will also be the one-hundredth episode of the series. The Writer has mentioned that this volume may end on a cliff-hanger though a volume five has not been planned nor confirmed yet.
After a lack of appearances in volume three, the Skarloey Railway and its engines will have roles in this volume. There will also be a good amount of Percy centric stories.
There are two re-writes planned for volume four. The first which will be released during volume IV-A, and the other at the beginning of IV-B.
It should be worth noting that this split in the production of volume four is somewhat similar to that of series three of Thomas the Tank Engine and Friends where sixteen episodes were produced in one block and the remaining ten in another. A more related example though would be the first six episodes of series six which have some differences to the rest of series six.