(Pictures put in by bigwikistudios)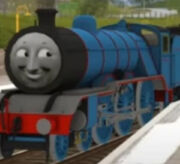 98462 and 87546 are two tender engines who visited the North Western Railway in 1922.
Bio
The two engines visited the railway in 1922. They were sent back to the Mainland for causing trouble, and were most likely scrapped.
In Adventures on Rails, they will be introduced in The Case of the Missing Engiines, where they were be the main antagonists. 98462 is also called "Alfred".
Appearences
Adventures on Rails
Specials:
Livery
In the Adventures on Rails special, they will be painted LNER apple green.
Persona
98462 and 87546 are rude, spiteful, impolite, and nasty.
Basis
It is unknown what exactly what their prototype is, but they are most likely LNER B12s.
BIGWIKISTUDIOS series
in bigwikistudios's series their both portrayed as good engines and 98462 is painted black